---
---
Build a PC Test Box...
I work on computers as a sideline job, every now and again I build custom systems for people I know and other times I get called on to repair generic non-modded PC's. It's a fun way to earn a few extra bucks and the people who have me service their machines have so far (luckily) never been dissatisfied... but I have had motherboards for fresh builds arrive in boxes that looked like they had been stepped on during delivery and repairs come in that require far more diagnostic than the case speaker's post beep can provide. Not all motherboards are as easy to diagnose as the mouse over picture below, that one is a no brainer... but I have had computer repairs come in for just about every problem anyone could ever expect to encounter and sometimes a little extra help can come in handy. This guide will show how to build some extra help with a PC test box, it's a fun little homemade toy for any true computer repair geek.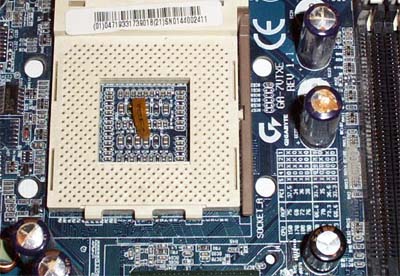 I was going through the piles of computer crap I have accumulated over the years, keeping everything that is useful and throwing away the junk, when I noticed this project floating in my "maybe" pile. The pictures below show the treasures that almost hit the trash - a pre-wired power button, reset button, power and HDD LED's and lastly a small pre-wired speaker - this was my motivation. It was all going to be thrown into a big project box I already had and called good, until I decided to kick it up a notch and completely change the design... this will happen over and over as we go.
---

---

I got the initial idea for my test box from a cool little PSU tester (shown below) that I bought online for under $10 USD, it's fairly compact and it works really well. I had at first planned to incorporate the PSU tester into my final test box design but changed my mind after coming up with a better idea... but still my main focus going into this project was to build something just to make testing computers and mother boards easier, even if it were only to remove the computer case front connections and speaker from the equation.
I had also bought a PCI POST card a while back (shown below) that has a secondary cabled two digit LED display, the card itself can diagnose the complete system and has LED's on the edge of the card to show if the PSU is faulty... the PCI POST card will become another part of the test box so you see why there is no need to add the above mentioned PSU tester now.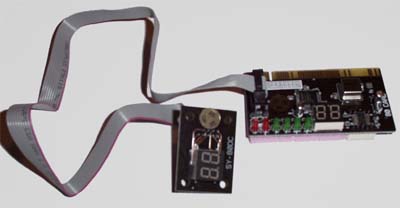 The next step is purely aesthetic and will have no effect on the functionality of the finished product, but since I have a bunch of gray Flexo sleeving and heat shrink tubing (see below) on hand I thought for an extra added touch I would sleeve all the wires and make the box look cleaner and more professionally built. Skip this step if you must, but It does improve the looks of the box and is therefore recommended.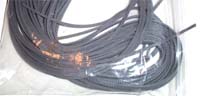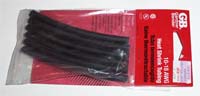 The following picture shows the cables all sleeved and everything ready to mount in the project box, which I almost did, but I got a new idea and the design changed once more...