---
Projects | Guides | Gallery | Articles | Contact
---
ThermoHawk 200 vs. Cen-Tech Non-Contact IR Thermometer (2)
A Closer Look:
Below shows everything included (instruction manual, thermometer and batteries) and the size of the ThermoHawk 200, at just under four inches it is a small tool.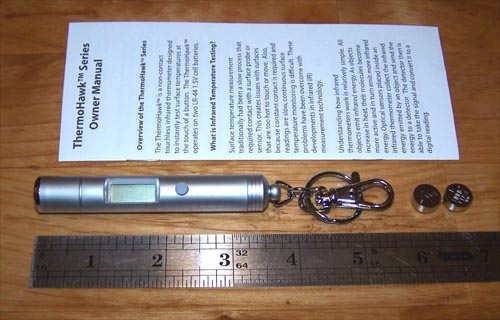 The Cen-Tech comes with batteries pre-installed, a wrist strap and instructions... at under three inches in length it too is a very small tool.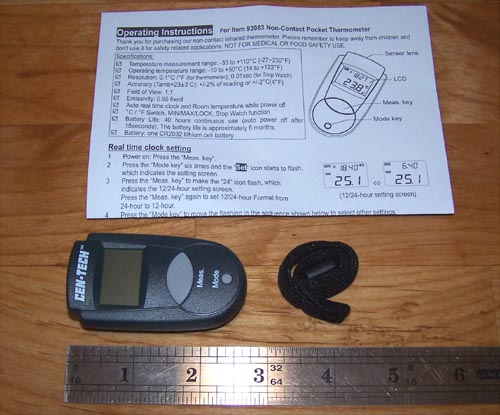 I installed the batteries into the ThermoHawk 200 and attached the wrist strap to the Cen-Tech thermometer, simple tasks both. From a design standpoint I think a wrist strap makes better sense than a key ring, firstly because this is not a life or death tool that would be needed 24/7 meriting key chain status and secondly because keys dangling on the end of it would only serve to make using it difficult. The wrist strap is the better option here as you would not want to drop the thermometer when using it... however infrequently that you would. On the ThermoHawk plus side it does come with a cap to cover the measuring end in case you did want to carry it around in your pocket.
Use and Testing: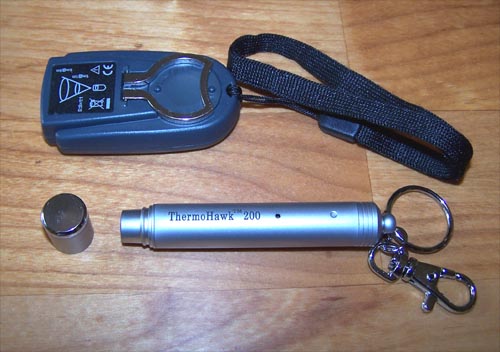 The picture above shows the back side of both products, the Cen-Tech has an attached flip out stand for taking constant readings... but it would be of negligible use to modders. The ThermoHawk 200 has a hole on its back that you have to put a paperclip or what-not in to change from Fahrenheit to Celsius, the Cen-Tech has this button right up front so you don't have to poke at anything to use it.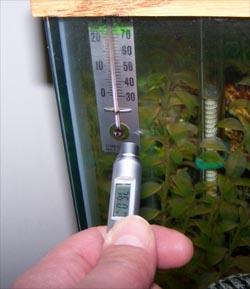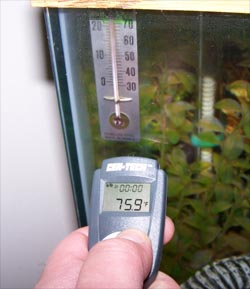 In the above pictures I am using both thermometers on the outside glass of my fish tank to compare the readings to the thermometer inside the tank, I realize that this is not a scientific way to test for accuracy but the temperatures shown are about the same as what the tank thermometer read. Below is the ThermoHawk 200, I am testing the temperature of the light bulb in my desk lamp, it's hot. When using the ThermoHawk it doesn't really handle like a tool, it is a bit unwieldy to use and I couldn't imagine wanting to use it with keys attached to it. The LCD screen on the ThermoHawk 200 is not as easy to read as that of the Cen-Tech, the sideways screen placement is somewhat awkward and at times difficult to read.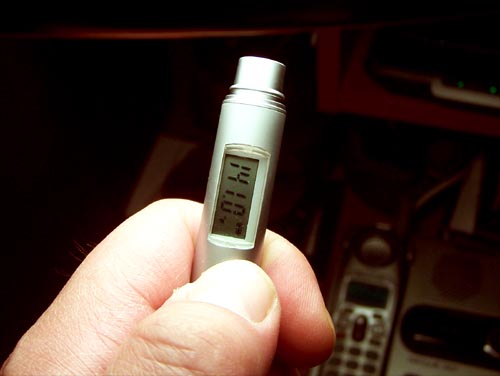 Below is the Cen-Tech thermometer taking a temp reading of the light bulb, the temperature readout is a bit larger than that of the ThermoHawk 200 and not being placed sideways makes it a lot easier to read. The Cen-tech is small but it feels like a tool when using it and (for whatever reason) also feels more accurate, since I do not have access to any serious temperature testing equipment I cannot prove or disprove this but I tend to believe that the specifications stating a .5% higher accuracy for the Cen-Tech is true... even if it isn't true the more affordably priced Cen-Tech model is at worst still as accurate as the ThermoHawk 200.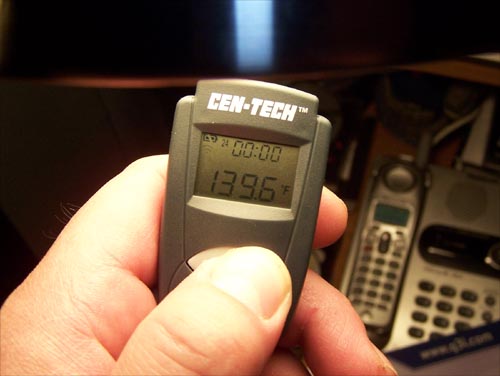 Conclusion:
If this were a real fight it would have been a bloody one sided mess and the ref would have stopped it in round one. When comparing these two tools there really is no comparison, the Cen-Tech non-contact pocket thermometer is better designed, more accurate and best of all more affordable than the ThermoHawk 200. Don't get me wrong though, the Thermohawk 200 is also accurate and the sideways display screen is not horrible, it is far prettier than the Cen-Tech with a brushed aluminum exterior and the protective cap is a really good idea... but a $50 price tag makes it just another expensive tech novelty.

The better temperature testing tool is the Cen-Tech non-contact infrared thermometer, the added stopwatch and clock features are unnecessary when testing PC component temps as is the nifty stand on the back, but they are there if you ever need them... not included with the ThermoHawk 200. Harbor Freight Tools runs the Cen-Tech IR thermometer on sale for $9.99 most times, this tool is well worth a $10 investment... if you get their sales flyer with a 20% off coupon then it is a double bonus for you.

Both thermometers feature near instantaneous and accurate temperature readings from -27 to 230 F and turn themselves off after 15 seconds to preserve battery life. Whether you choose the ThermoHawk 200 or the Cen-Tech, an IR thermometer is a very useful tool that makes detecting and dealing with the hot spots in your case simple. PC builders and case modders would both be wise to make room for an IR thermometer in their tool arsenal, it's something that scratch build custom case modders need and should not be without. Draw your own conclusion as to which one would serve you best, but if you mess with computers on a regular basis an IR thermometer is a sweet bit of technology that makes mod building better.
- Item(s) Reviewed by ARTbyTROY.
---